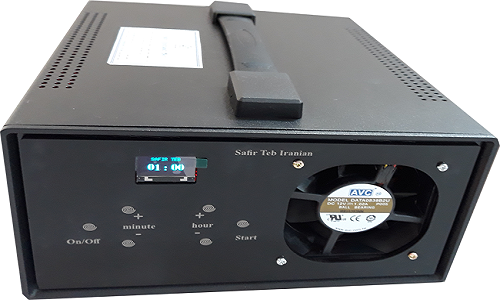 Safir OzoHandy Box
In order to provide more specialized services to the lovely people of our country and help solve the problem of possible contamination of homes and workplaces closed with infectious agents including corona virus, Safir Teb Iranian Company has designed and built its third product entitled "Safir OzoHandy Box". This portable device can be used in homes, schools, kindergartens, meeting rooms, laboratories, offices, waiting rooms, vehicles and other indoor environments.
Using this device, it is possible to safely sterilize enclosed spaces (provided there is no human presence, during the operation of the device) and free of bacteria and viruses.
The advantage of using ozone gas technology is that it penetrates all pores and blind spots (unlike ultraviolet (UV) light, which can only disinfect surfaces that are directly exposed to light radiation).
Technical specifications of the device:
External dimensions: width (22) × length (28) × height (11) cm
weight: 2 kg
Input voltage: 220 volts single phase
Power consumption: 100 watts
Sterilization time: variable and depending on the dimensions of the desired space
Ability to customize cabinet dimensions and specifications based on customer's needs
One year guarantee and ten years of after-sales service
If you need more information, scientific and technical advice, coordination for issuing pre-invoices and concluding a contract for this product, don't hesitate to contact us.